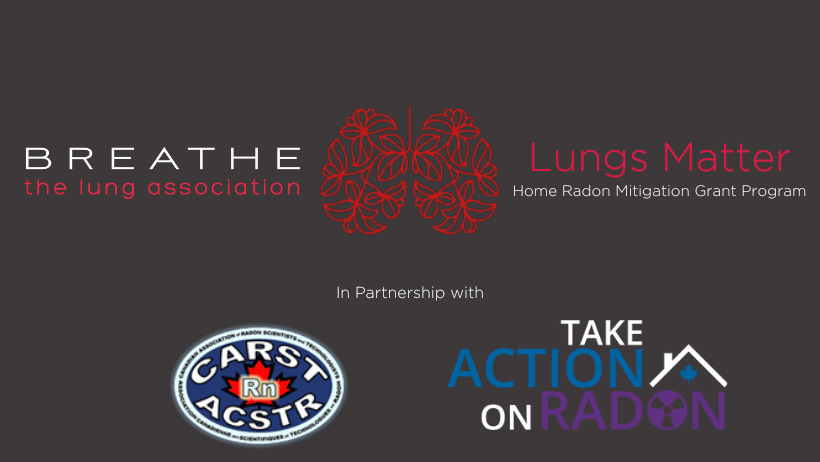 Lung Cancer Prevention Through Radon Mitigation
For Individuals Diagnosed With Lung Cancer and Low-Moderate Income Households.
The Lung Association, Manitoba Inc. is piloting a new grant program to help Manitobans afford radon mitigation services. The Lungs Matter Grant Program aims to provide financial support to individuals who have been diagnosed with lung cancer and individuals considered a low-moderate income households with priority given to the low income households.
Manitoba is a radon hotspot where 1 in 4 homes tested have high radon levels. Radon is the leading cause of lung cancer in non-smokers; however, many families have reported not mitigating due to the cost. This program assists with a payment of up to $1,500 towards the cost of radon mitigation when completed by a radon mitigation professional. The program is endorsed by the Canadian Cancer Society, CancerCare Manitoba, and the Canadian Association of Radon Scientists and Technologists (CARST).
Lungs Matter is being launched as a pilot project to assess the level of need for radon mitigation support in the province of Manitoba. All eligible applications will be assessed monthly by a grant committee based on need and available funding.
Applicants will be asked to provide test results from a C-NRPP certified radon test kit as well as documents to support other eligibility criteria.
JOIN US AS A "LUNGS MATTER" Sponsor
Commitment Tiers:
Gold Tier Sponsor
Silver Tier Sponsor
Radon Mitigation Partner
Benefits:
·         Have your logo listed on The Lung Association, Manitoba Inc.'s website as a partner.
·         use the Lungs Matter partner logo on your website and promotional material
·         Help Manitobans reduce their lung cancer risk from radon
Complete the following PARTNER SIGN UP FORM to sign up: