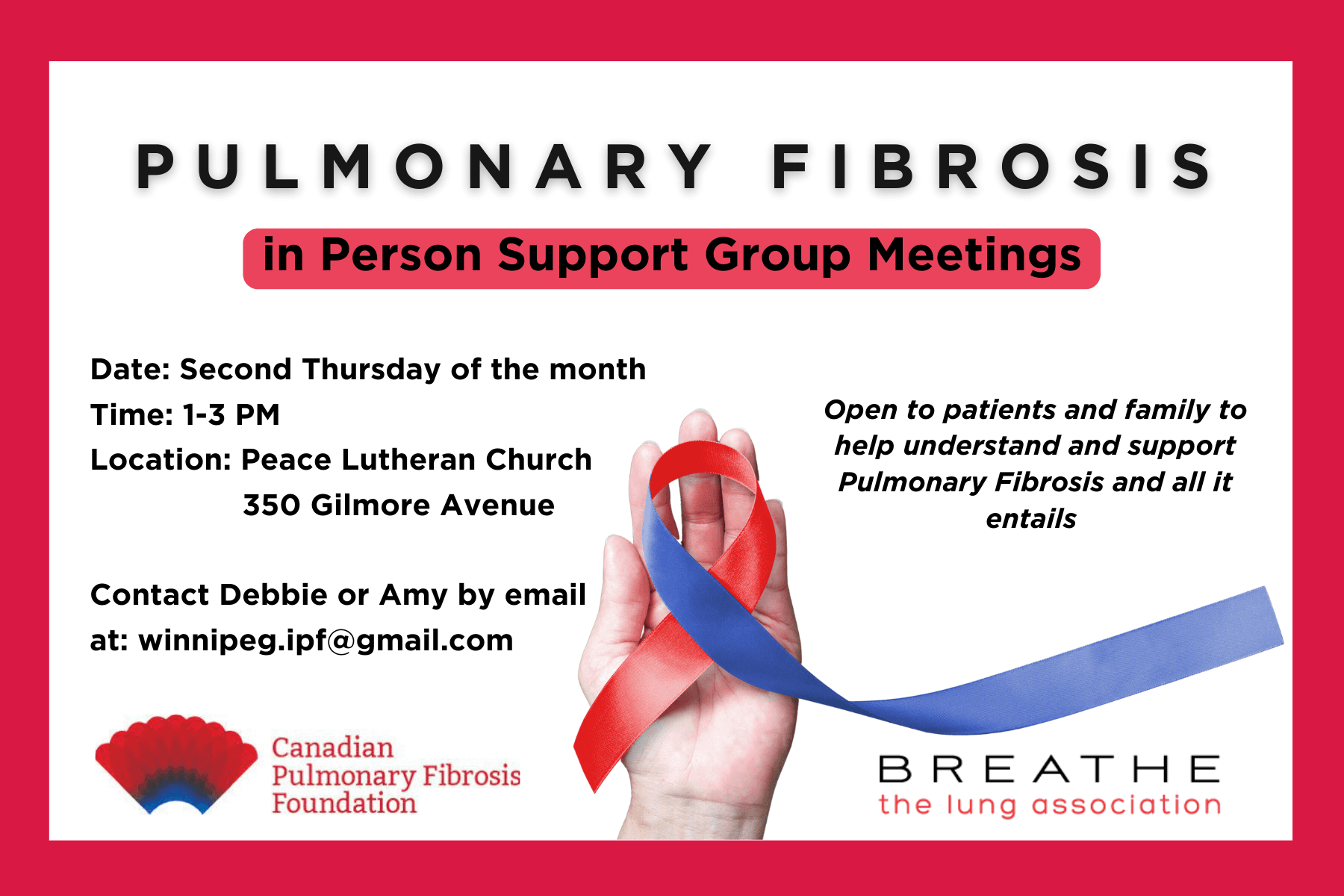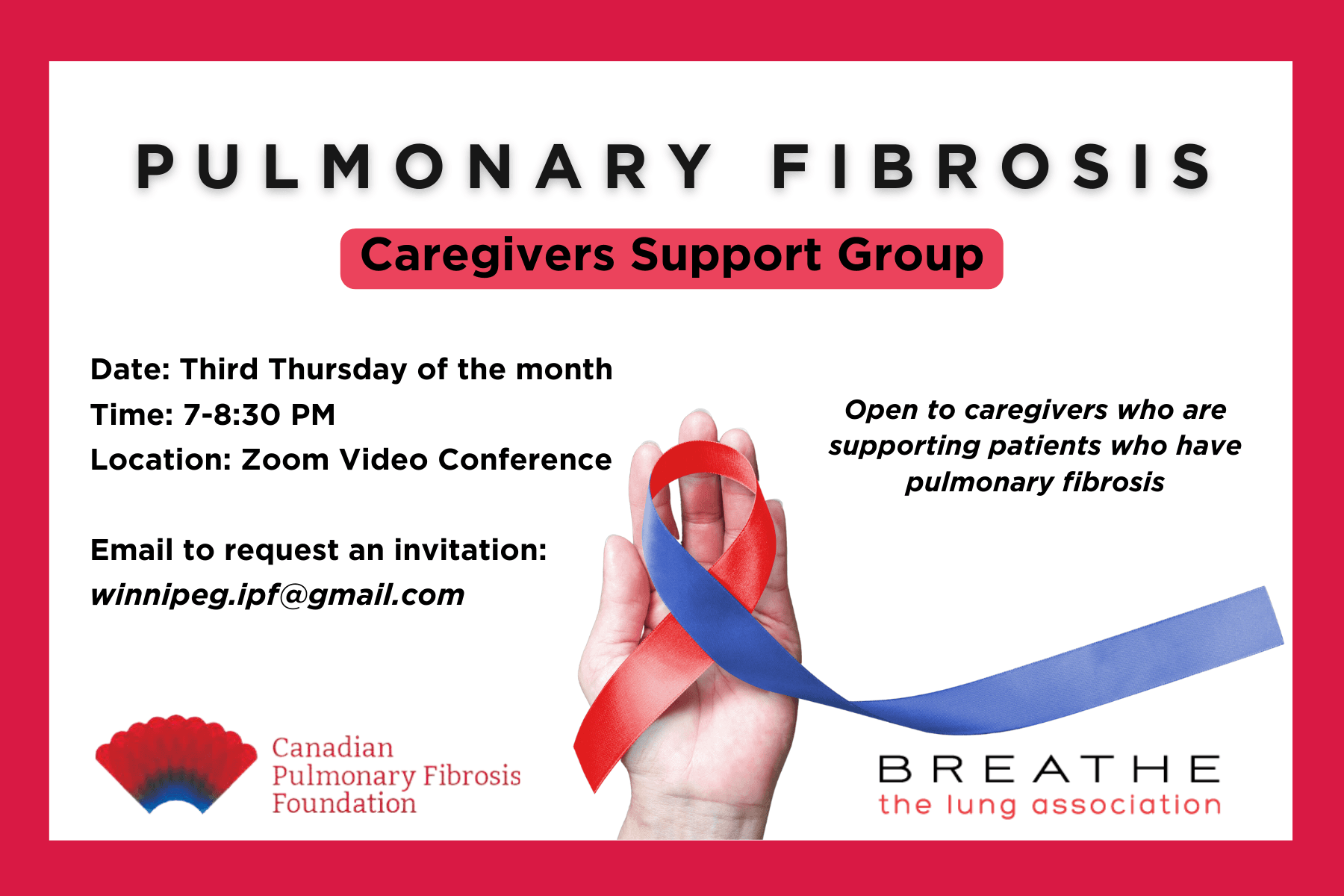 For Additional information on PF please visit The European Pulmonary Fibrosis Federation.
The EU-IPFF also has a series of webinars leading up to and highlighting topics from their 2022 IPFF conference. Link to the webinars here.
Pulmonary Fibrosis has also been linked to Scleroderma. For more information on Scleroderma or to connect with a Scleroderma support group please visit Scleroderma Manitoba here.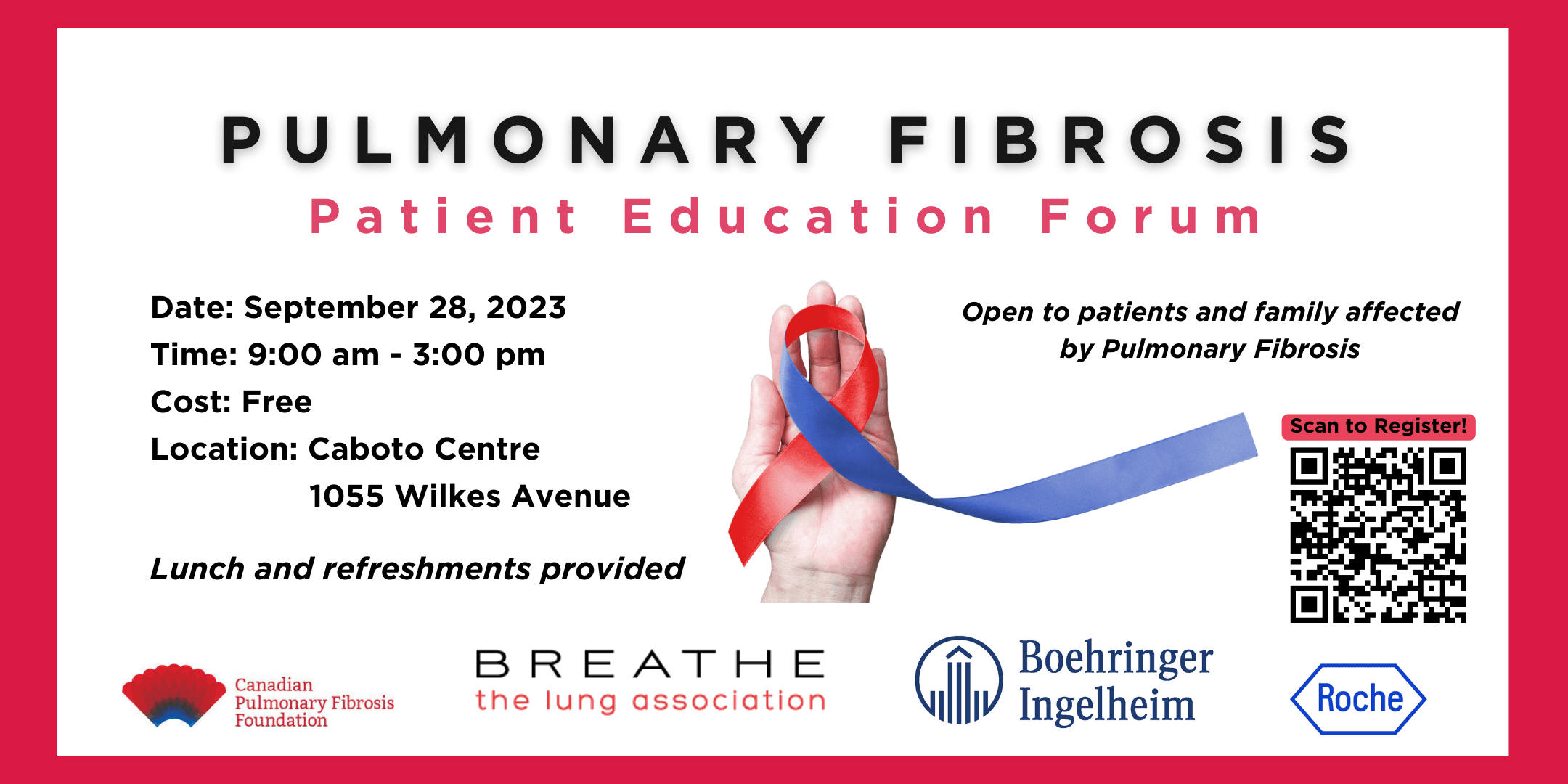 ABOUT THE EVENT:
Date: September 28, 2023
Time: 9:00 a.m. to 3:00 p.m.
Where: The Caboto Centre, 1055 Wilkes Avenue, Winnipeg, Manitoba
Cost: Free to attend
Organizing Committee:
Amy Webb and Debbie Homik from Pulmonary Fibrosis Support Group
Neil Johnston, CEO of the Lung Association, Manitoba
Dr. Lawrence Homik
Dr. Terry Colburne
REGISTRATION LINK: https://www.eventbrite.ca/e/2023-pulmonary-fibrosis-patient-educational-forum-tickets-677559989167 
PROGRAM (subject to change):
9:00 am – Event Opens (Display Tables Open)
9:30 am – Welcome from Neil Johnston, CEO of The Lung Association, Manitoba
9:40 am – Early stages of Pulmonary Fibrosis - Dr.Homik
10:05 am – Late stages of Pulmonary Fibrosis - Dr. Colbourne
10:30 am – Break
10:50 am – Symptom Control, Cough, SOB, GERD Dr.Homik
11:15 am – Now what? Life after diagnosis - Kamara Tayo-Jones  MSW RSW
11:45 am – New drugs in the Pipeline - Dr. Colbourne
12:00 pm – Lunch (Display Tables Open)
1:00 pm – Caregiver talk - Grieving for what was and finding acceptance for what is
1:30 pm – Role of Palliative Care – Dr. Tim Hiebert
2:30 pm – Open Panel Discussion/Q&A - all speakers
3:00 pm – Closing remark. Dr. Homik
LUNCH MENU:
Buns on Table (Serve w/ Starter)
1st Course: Artisan Mixed Greens w/ Honey Balsamic
2nd Course: Chicken Parmesan w/ Homemade Tomato Sauce, Seasonal Vegetable Medley, Baby Roasted Potatoes
3rd Course: Assorted Dessert Dainties (Family Style)
Coffee, Tea and Assorted Pop served
With generous support from Boehringer Ingelheim: https://www.boehringer-ingelheim.com/respiratory/ipf