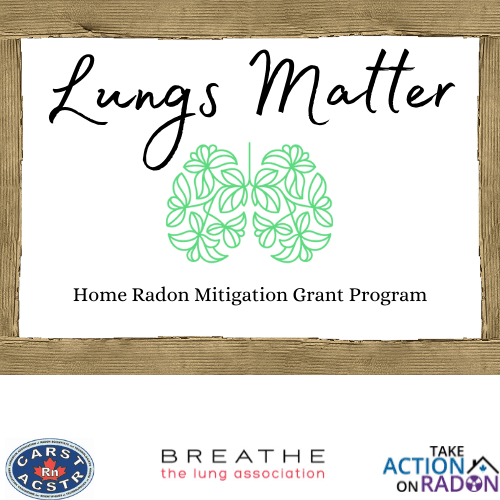 Lung Cancer Prevention Through Radon Mitigation
for
Individuals Diagnosed With Lung Cancer or are Low-Income Families.
The Lung Association, Manitoba Inc. is piloting a new grant program to support Manitobans in affording radon mitigation. The Lungs Matter Grant Program's goal is to provide financial support to individuals who have been diagnosed with lung cancer or are low-income households and who have tested for radon and need mitigation services.
Manitoba is a radon hotspot where 1 in 4 homes tested have high radon levels. Radon is the leading cause of lung cancer in non-smokers; however, many families have reported not mitigating due to the cost. This program assists with a payment of up to $1,500 towards the cost of radon mitigation when completed by a C-NRPP professional. The program is endorsed by the Canadian Cancer Society, Cancer Care Manitoba, and the Canadian Association of Radon Scientists and Technologists (CARST).
We are running this as a pilot project to assess the level of need for radon mitigation support in the province of Manitoba. All eligible applications will be assessed on a first-come, first-serve basis, and approved as funds are available.
ARE YOU INTERESTED IN BECOMING A SPONSOR
FOR OUR
LUNGS MATTER GRANT PROGRAM? 
Complete the form below.
For more information contact:
Hailey Coleman
hailey.coleman@mb.lung.ca
204-774-5501