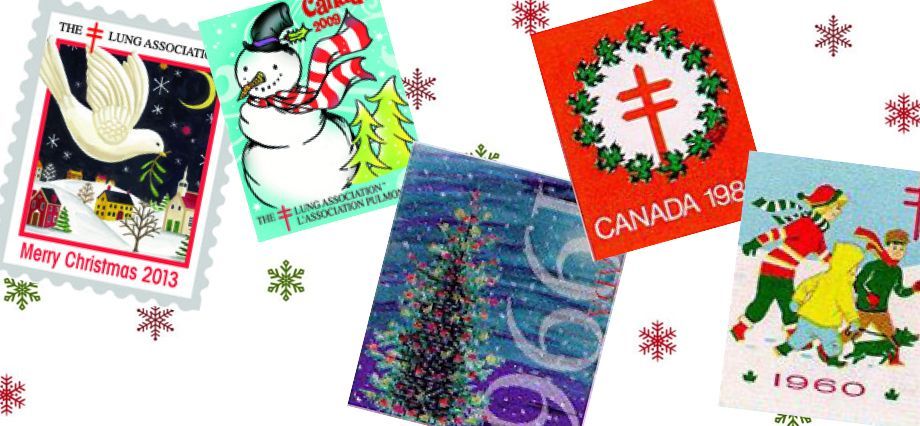 Seal Your Commitment to Breathing Breakthroughs 
Ever since they were first used over a century ago to fund previously unheard-of healthcare education and help stamp out tuberculosis, Manitobans have loved their annual Christmas Seals. Put them on seasonal cards and packages and we will all breathe a sigh of relief.
Since 1908, Manitobans have made a difference in the lives of people with lung disease by supporting the Christmas Seal campaign.  When a humble postmaster in Copenhagen, Denmark came up with the idea to sell decorative stamps to make money for the crusade against tuberculosis (TB), little did he realize that a little paper stamp would help save lives and impact lung disease around the world and for generations to come.  Today Christmas Seals are an essential fundraiser for The Lung Association, Manitoba.
When the Christmas Seal tradition first began, its main goal was to raise money to build hospitals for tuberculosis patients. Countless parcels, packages, and letters have since been adorned with this traditional symbol.
Christmas Seals continue to be The Lung Association, Manitoba's most important source of donations. Today funds raised from Christmas Seals are used to support world-class research, programs, and services that help Manitobans breathe easier every day. 
Order Your 2021 Christmas Seals Today!
By Phone -  Please call Kyla at 204-774-5501 x 105 or 1-888-262-LUNG (5864) x 105
By Email - Please send Kyla an email
Online - Please click here. Make sure to select "Manitoba" in the drop-down menu.
Missed Last Year's Christmas Seals?
No worries, contact Kyla and she will be happy to send you last year's Christmas Seals for a minimum donation of $5 or more.